The Deal With SSL Certificates and the Perks of Having One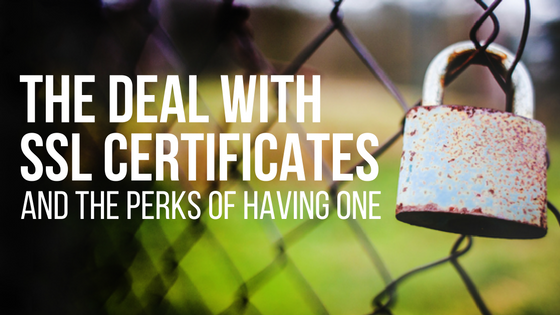 An SSL Certificate is a digital file that secures your site. Ever wonder why some site URLs start with HTTP and others with HTTPS? Well, that's an SSL Certificate at work. Sites with HTTPS in their URL have one and it means information exchanged between you and the verified site can't be accessed by anyone else — basically, no one can eavesdrop or hack your personal info. An SSL is a must-have if you want to sell on your site, but that's not all they're good for. Here are a few reasons why you might want to consider getting one.
They let you sell on your site.
E-commerce is the most common reason for getting an SSL Certificate and it's a non-negotiable. If you want to sell on your site, you need one. Information like credit card numbers, passwords, and addresses are vulnerable without the added security SSL gives your site. Without it, you leave your customers open to hackers and security breaches — which doesn't exactly encourage people to buy from you.
They show you're trustworthy.
SSL Certificates verify the identity of your site, and this extra credential goes a long way in gaining people's trust. That little green lock and HTTPS next to your URL show visitors you're the real deal. Clicking that lock tells them more about your site's security and gives them peace of mind — a plus because someone who believes in your credibility is less likely to bounce from your site and more likely to consider becoming your customer.
They do good things for your SEO.
Google has used HTTPS as a ranking signal since 2014. That means it gives sites with secure connections search result priority. Google wants to provide users with the highest quality search results, so it makes sense that they'd incorporate site safety into their algorithms. An SSL is still considered a small ranking signal, but in a competitive search landscape, every effort counts.
They help future-proof your site.
Google has called for a "HTTPS everywhere" Internet, so one thing we can assume about SSLs: They're not going to become less important anytime soon. In fact, Google has hinted that it may strengthen its HTTPS ranking signal in the future. This shows site security will only become more important, not just to Google but to users too, making an SSL one way to set your future site (and business) up for success.
Whether you're looking for a way to sell online, stand out in search results, or have a site users love, we can help. Call 844-207-9038 or email hello@mopro.com for a free site preview and to see how great we can make you look online.
Posted on 09/23/2016 at 11:42:00 AM